PVT Joseph John Lis passed away peacefully in a hospital in his hometown, Westfield, Massachusetts, on November 22, 1985, exactly 37 years ago to this day. He died at the age of 64 years. Joseph Lis was a 101st Screaming Eagle, serving in Fox Company, 502nd PIR.  
Featured image: PVT Joseph J. Lis, a 101st Screaming Eagle of F/502 (Courtesy of Mrs. Sandra Clark). 
His early years 
Joseph Lis was born on February 25, 1921, in Westfield, Hampden County, Massachusetts. He was of Polish descendants, and a communicant of St. Joseph's Polish National Catholic Church. He enlisted in his hometown, on January 16, 1941, and became a WWII paratrooper.  
His first combat action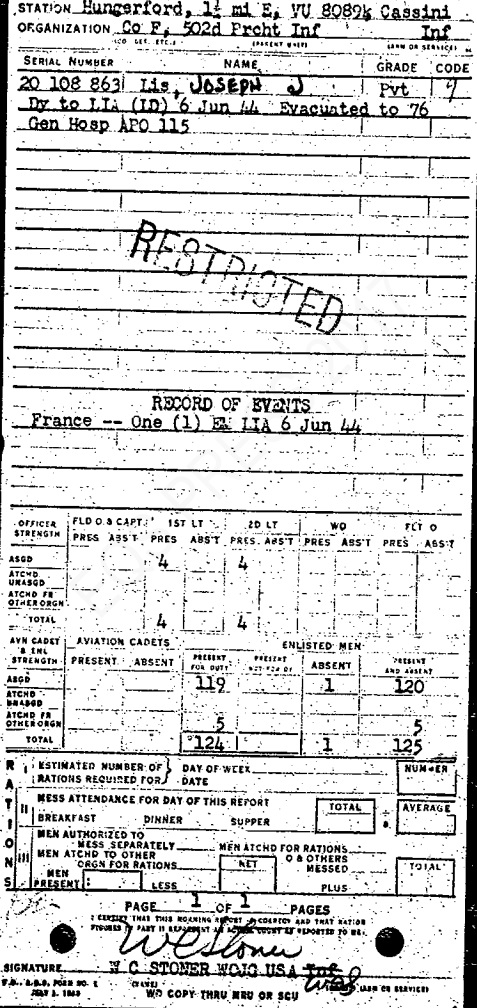 PVT Joseph Lis jumped in Normandy on D-Day, June 6, 1944. He was not very fortunate though, as he was the first Fox Company paratrooper to be mentioned as wounded in action in Fox Company's Morning Report of June 13. Joseph Lis was struck by a German bullet in his fibula and was evacuated to the 76th General Hospital.  
Battle of the Bulge 
On January 3, 1945, at the battle for Longchamps, Belgium, PVT Joseph Lis was not only again wounded, but he was also captured by the Germans and became their prisoner of war. PVT Lis was immediately taken away to a German POW Camp. During his first nine days, he was laying on his cot in a shack, weak from the loss of blood and the pain in his shoulder.  
After the Nazis had fled away for the advancing American troops and the camp was liberated, Lis was flown to an English hospital to recover from his shoulder wound. He wrote about the circumstances in the POW camp in a letter to his mother:
"For three months, I ate nothing but one-sixth of a loaf of bread and two bowls of greasy soup a day. They treated us like dogs all the time." 
Post War life 
After the war, Joseph Lis returned to Westfield and married Margaret P. Buttles on May 20, 1950. After his discharge, he worked for Springfield Armory until it closed in 1968. He then worked for the Westfield School Department and later for the Springfield Post Office until his retirement. He also drove a school bus part-time. Lis was a member of the Veteran of Foreign Wars, Post 6645, in Russell. When he passed away in 1985, he left behind his wife Margaret, and a daughter, Sandra. Joseph Lis was laid to rest at Saint Joseph's Cemetery in his hometown. Another 101st Screaming Eagle had soared up to heaven.
This is a short story of one of Fox Company's paratroopers, PVT Joseph Lis, as described in the book: From the Frying Pan to Mittersill, Fox Company, 502nd Parachute Infantry Regiment (1942 – 1945). If you are interested in learning more about PVT Joseph Lis and other brave Fox Company paratroopers, order your copy now!