Welcome on our website. We have successfully published many military books in the Netherlands for the past ten years. Lately we have been receiving many requests from all over the United States. A logic step was to start an office in the USA: Flying Pencil USA is founded in 2022.  And we are proud to announce our first publication in the USA:
From the Frying Pan to Mittersill – Fox Company 502nd Parachute Infantery Regiment 1942 – 1945 – by LTC Jos Groen MSc.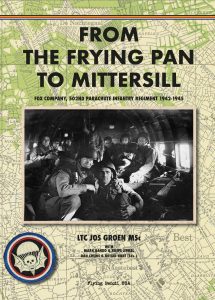 $ 39.50 with free shipping in the USA only.  Shipping rates other countries on request.
Don't forget to order your copy of 'From the Frying Pan to Mittersill' here.
Forward a check to:
Flying Pencil USA LLC
4582 Kingwood Drive
Suite E # 168
Kingwood, TX 77345
We would love to hear from you!
Did you read 'From the Frying Pan to Mittersil'? Let us know what you think! 
Go to the product page, scroll down and leave us a review.
*****