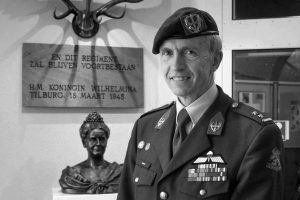 Lieutenant colonel Jos Groen MSc (1963) began his military career as a conscript in the Dutch Marine Corps in March 1985, spending nine months on Aruba after successful completing his basic training graduating at the top of his class. In 1989, he transferred to the Royal Netherlands Army. After a two-year training period he was promoted to second lieutenant, and he held his first officer posting as an Armored Infantry Platoon Commander within 43rd Mechanized Infantry Battalion. After re-training for the Air Mobile Infantry he held several functions at platoon and company level within 13th Air Mobile Battalion "Regiment Stoottroepen". In 1997, Jos Groen transferred to the personnel service of the Royal Netherlands Army. After completing his Personnel Studies at the University of Applied Science in 1999, he fulfilled various positions within the Royal Netherlands Army's personnel services, both at battalion and brigade level. Between 1998 and 2005, he also studied Labor and Organizational Psychology, which enabled him to work as a university lecturer at the Royal Netherlands Military Academy, where he taught courses in leadership and ethics.
In 2008, he returned to the operational part of the Army, becoming Head of the Current Office of the G3 branch of 43rd Mechanized Brigade Staff in Havelte. During this posting he was deployed to Uruzgan (Afghanistan) in 2010, where he worked as the Staff Officer Information Operations within the Task Force Uruzgan VIII staff. This was his third mission abroad after earlier missions with Dutchbat III (UNPROFOR, 1995) in Bosnia and Task Force Fox (2002) in Macedonia. After returning from Afghanistan in September 2010, Jos Groen has been a senior researcher at the Netherlands Veterans Institute. In 2013, he returned to Havelte and became the head of the G1 branch of the Brigade Staff, after which he held positions at the Land Training Center (2016 – 2017), the Land Warfare Center (2017– 2019) and, currently, at the Netherlands Veterans Institute.
Jos Groen has published before on a much-discussed Dutch mission. In January 2007, his father Co Groen, who had been a conscript soldier in the former Netherlands East Indies in 1949 and 1950, passed away. On the basis of 80 individual interviews with veterans of his father's unit, 43rd Engineer Field Company, Jos Groen wrote "De Sobats van Co Groen" [Co Groen's Pals] (2010). In April 2012, he published his second book, based on 23 interviews with junior Dutch officers who served in Uruzgan, Afghanistan, titled: Task Force Uruzgan (2006 – 2010) "Getuigenissen van een missie." An English translation of the book, re-titled Junior Leadership in Afghanistan (2006 – 2010) "Testimonies of a mission" was released in 2013. In 2019, he published his first book related to the 101st Airborne Division "Screaming Eagles", titled: "Three of the Last WWII Screaming Eagles".