On October 3, 1944, the paratroopers of Fox Company, 502nd PIR, arrived at Berg en Dal, a small town close to the city of Nijmegen. After some days in reserve, the operations of the Screaming Eagles of F/502 at the Island began. It was the start of an intensive period being on and off the front line, in typically Dutch horrific autumn weather, and undergoing daily shelling by the Germans. 
Featured image: From LtoR, four 101st Screaming Eagles: LTC Thomas Sutliffe (Commanding Officer 2nd Battalion, 502nd PIR), LTC Steve Chappuis' back (Regimental Commander 502nd PIR), General Maxwell Taylor (Commanding Officer 101st Airborne Division), and 1SGT Earl Cox (Courtesy of M. Bando collection). 
1SGT Cox's diary
Original WW2 documents and interviews support the research and writing of articles and books. In regards to F/502, the diary kept by 1SGT Earl L.L. Cox after he had arrived in the Netherlands and at Bastogne helped to write Fox Company's book tremendously in regards to these two periods. Though not without an occasional (historical) flaw or missing certain details about the daily activities of Fox Company's paratroopers, Earl Cox's diary is a treasure trove. It gives a wonderful glimpse of Fox Company's combat period in the Netherlands and during the Battle of the Bulge. On some occasions, it perfectly matches with other historical documents or interviews held with F/502 paratroopers. The information from the diary thus made these stories more complete, as well as made it possible to put them in the right chronological order and historical context. 
Small versus elaborate descriptions
There were only four days in 1SGT Cox's diary that recounted more extensively one of the daily issues or combat actions Fox Company was in. Why he wrote such a broad story about November 16, 1944, is unknown, but it provides an interesting insight into the enemy's presence and activities. Even that far into November, enemy presence was still high which made a German assault an imminent and daily threat (see for more details p. 155/156 of the book).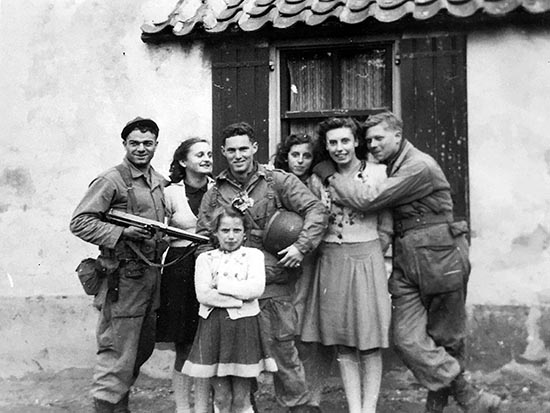 F/502 last combat actions on the Island
1SGT Cox wrote about the next day, November 17:
"Two patrols, one from Fox and one from Dog Company (with six and twelve paratroopers respectively) were sent out at the first crack of dawn to inspect all the houses in front of OPLR [Outpost Line of Resistance] and those located back to the MLF [Main Line of Forces] in order to guard against an enemy OP [Observation Post] being established. Both reports were negative."
These were actually the last actions ofthese 101st Screaming Eagles of F/502 on the line at Hien, the Island, in the Netherlands.
This is a short story about one of Fox Company's paratroopers,
1SGT Earl L.L. Cox
, as described in the book: From the Frying Pan to Mittersill, Fox Company, 502nd Parachute Infantry Regiment (1942 – 1945). If you are interested in learning more about
1SGT Cox
and other brave Fox Company paratroopers, order your copy now!